Today, businesses require higher agility to respond to a fast-changing business environment. Most companies are focused on either building products leveraging digital technologies or using cutting-edge tools to scale up their IT infrastructure. IT teams are always overburdened with numerous tickets—these can include simple installation requests and upgrade requirements as well as complex security incidents and vulnerabilities, which often require hours of troubleshooting. In addition to employees' requests, support teams must also resolve customers' service tickets. In many cases, the IT teams are so overworked alert fatigue sets in, leading to oversights, poor end-user experience, and productivity losses.
To avoid this, organizations should invest in scalable ticketing software, which can help IT and customer support teams prioritize their work efficiently. Ticketing software not only makes the job of support teams easier with automation but provides easy visibility into the status of tickets to everyone. This visibility also ensures better ticketing management and allows continuous improvements of productivity, processes, and resource allocation. This article will list the top five free ticketing solutions in 2022 capable of helping smaller organizations improve their ticketing management.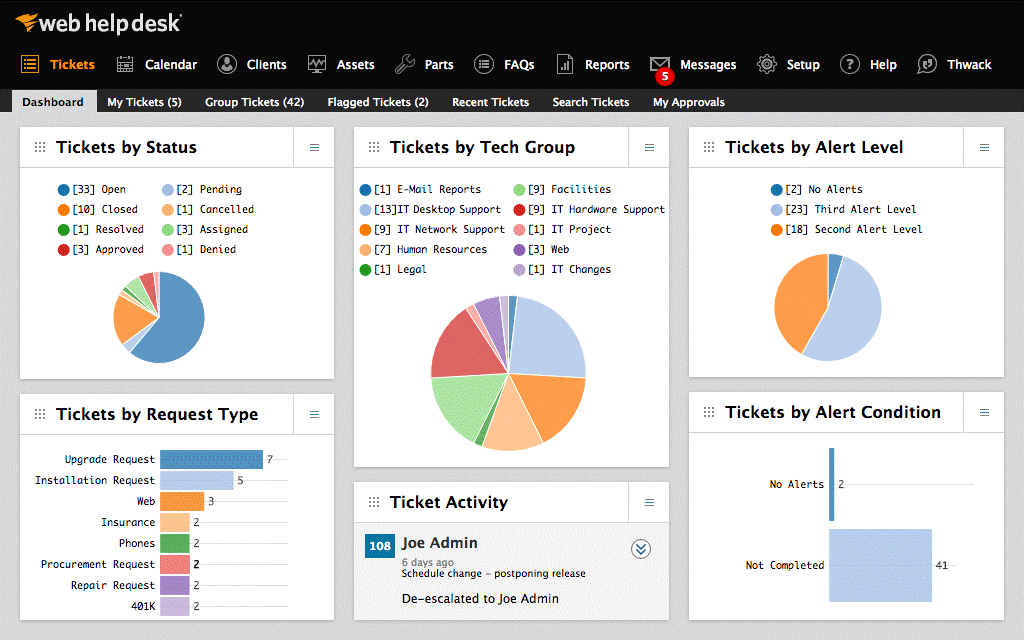 The free edition of SolarWinds® Web Help Desk® (WHD) provides you with powerful features to manage service tickets from creation to resolution using a unified web-based interface. The software is designed to automatically route and assign tickets to the right team member. It's also easy to implement WHD in enterprise environments, as it offers Active Directory (AD) and LDAP authentication and supports Windows, Linux, and Mac systems. WHD can make it easier for your team to associate multiple incidents with a single problem, which prevents duplication of work and ensures faster ticket resolution. It also allows visibility into the entire life cycle of a ticket and the team's performance over a period. The software can provide self-service capabilities, which can significantly reduce the workloads of support teams. Additionally, WHD can streamline the tracking and management of service-level agreements (SLAs). The software provides alerts for SLA breaches and notifies you in advance for SLA renewals.
Though the free edition of WHD is suitable for smaller companies, growing organizations can explore the Web Help Desk full edition, which offers features such as task automation, automated IT asset discovery, change management, customer satisfaction surveys, and more.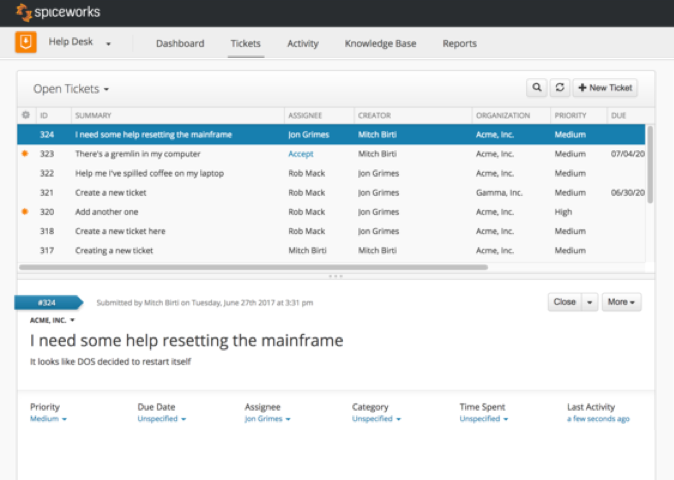 Spiceworks offers both self-hosted and cloud-based versions of its free ticketing software, which are preferred by IT teams for ticketing management. The software provides an intuitive interface to track, manage, route, and resolve tickets with high efficiency. It also allows you to view ticket history, first response time, ticket close time, and more. Managers can view all open and unassigned tickets to prioritize and allocate them to the right people for faster resolution. The software also offers AD integration, which makes it easier to add new users, authenticate them, and tag them on tickets. Furthermore, it makes it easier for your technicians to collaborate, troubleshoot, and resolve issues. The cloud version of the software is highly recommended for smaller organizations, as it requires minimal setup.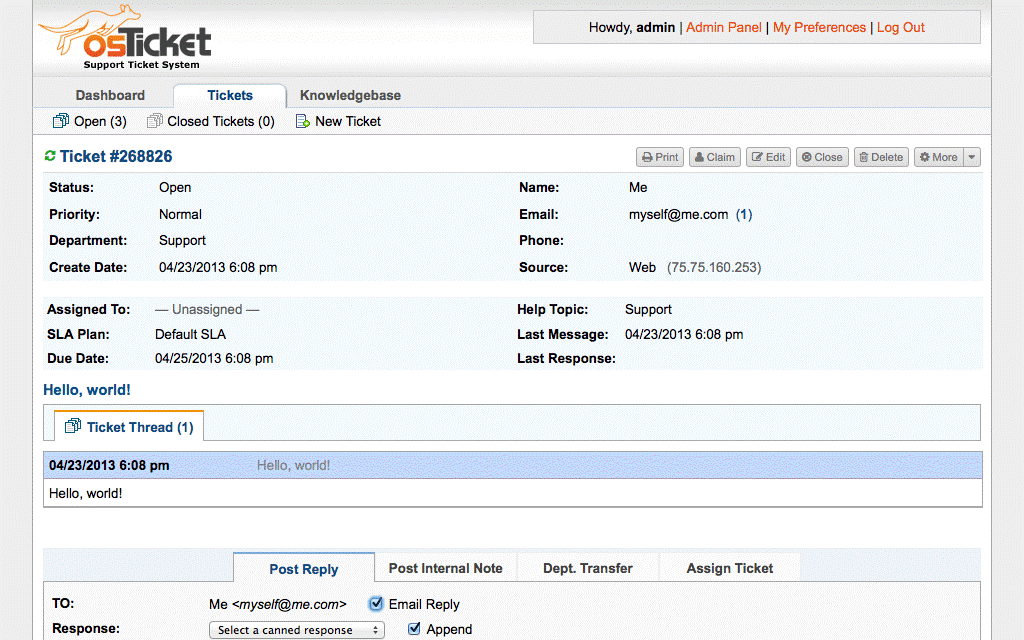 osTicket is a ticketing software preferred by customer support teams. It routes customer inquiries and requests via email, web forms, and API to a centralized web-based customer support platform. You can create custom fields for tickets generated by users to capture all relevant information for issue resolution. Additionally, you can attach forms and lists to each ticket. osTicket also allows you to define rules to route tickets to the right departments and trigger a predefined set of actions. Furthermore, the software offers an agent collision avoidance feature, which prevents duplication of work across your team. A key highlight of osTicket is it enables effective issue resolution with its to-do lists for agents. These lists of tasks can be assigned to specific ticket types so agents follow all steps and tickets are only closed when the tasks are complete.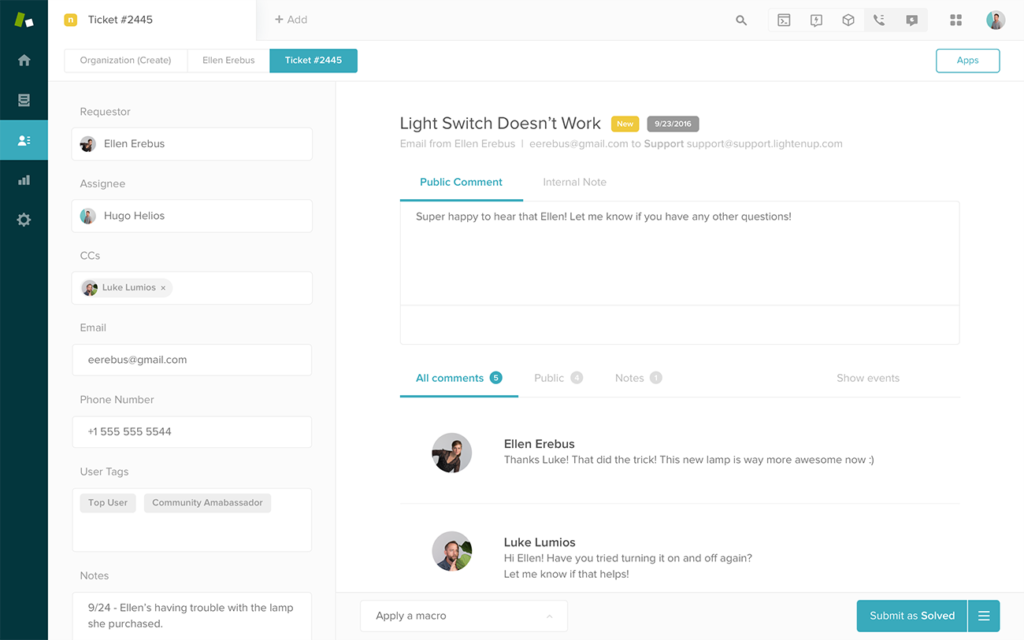 Zendesk offers a free ticketing software trial for customer support teams. It includes various macros, automations, and built-in workflows designed to reduce workloads for support teams. The software automatically updates ticket status based on business rules or time-based conditions. Its unified interface offers custom views, allowing agents to monitor all tickets, their statuses, and assignee details. Furthermore, it uses machine learning to analyze customer data and assist agents in delivering personalized services in a highly efficient manner. One major advantage of Zendesk is it offers omnichannel support, which helps eliminate data silos, ensures your support agents get contextual information about issues, and helps them collaborate easily without facing duplication or other inconsistencies in ticket resolution.

The SysAid free ticketing system offers support for up to two administrators, 100 assets, and 100 end users. It's a highly capable and easy-to-implement ticketing system your IT, human resources, finance, customer support, and procurement teams can use. The system is available in self-hosted and cloud-based versions and offers easy automation for efficient ticket management. The tickets are automatically routed and escalated based on your business rules. Its Service Center helps you leverage useful integrations with common tools such as emails, Slack messages, and even phone calls. These integrations allow you to efficiently manage all requests and easily collaborate with team members.
Where to Get Started
If you're looking for free ticketing software, this article should provide a good head start in your research. These solutions offer the most common and advanced features for ticket management. Though most of these free solutions can help you meet your immediate help desk requirements, you might want to evaluate and compare their plans if you want to scale up in the future. In terms of ease of implementation and usage, coverage of features, and integration with other tools in enterprise environments, we find SolarWinds Web Help Desk highly capable.