By Arnab Roy Chowdhury
Arnab is a UI developer by profession and a blogging enthusiast. He has strong expertise in the latest UI/UX atrends, project methodologies, testing, and scripting.
---
Do you own a data center or have your valuable data stored at a data center? In both cases, you're probably thinking about how to automate your data center's infrastructure management. In fact, you may be looking for a tool to help you optimize management costs. You may also need a tool capable of predicting problems and helping you solve them.
In this post, we're going to consider the best tools to help you manage your data center's infrastructure. But first, we're going to discuss what data center infrastructure management is and why it's necessary.
What Do You Mean by Data Center Infrastructure Management?
What do we mean by the management of an asset or resource? Well, you need to find a way to utilize your asset or resource to ensure it performs efficiently while keeping the budget in check.
Now, let's talk about a data center. Managing the infrastructure of a data center means providing the admins with a digital diagram of the facility's performance. The goal is to efficiently use the data center's floor space, equipment, and energy. At the same time, data center infrastructure management (DCIM) helps you fulfill your goal while optimizing costs.
Since we now know what DCIM is, let's discuss why it's necessary.
Why Do You Need Data Center Infrastructure Management?
The benefits of DCIM lie far beyond resource usage. A well-managed data center can also ensure human errors are reduced as much as possible, resulting in less downtime. Let's consider some other benefits of DCIM.
Monitoring Power
An efficient DCIM strategy requires you to have timely data regarding the power usage statistics of your facility. You'll get a clear view of energy usage with power monitoring, so you can better understand how much energy each component needs. You'll also get an idea of whether you have the provisions to fulfill a component's energy needs.
Monitoring Assets
An effective DCIM solution can help you manage the human assets working in your facility. Efficient asset usage can reduce system downtime and reduce the deployment time of new components. Just like any other management solution, with DCIM, you'll have access to every detail of the resources working at your facility.
Capacity Planning
The data you receive from DCIM tools will help you understand your facility's capacity, or the number of servers or hardware you can store at your data center. By going through the data, you can plan for an upgrade based on your customers' requirements.
Monitoring Environment
What are the temperature and humidity of the place where your data center is located? Do you have all the required backups if there's a power outage? You'll need answers to these questions before you guarantee a customer you can keep their data safe. There's no better way to get clearer answers to these questions than DCIM. If you've implemented a DCIM solution at your facility, you'll easily get all the required data in the dashboard.
You can utilize all these advantages without much manual labor through DCIM tools.
Best Data Center Infrastructure Management Software
In this section, we're going to discuss several tools you can use to collectively manage the infrastructure of your data center. These tools will help you monitor and fix performance issues with your server, network, database, and virtual machines (VMs).
Database Performance Monitor
Monitoring the performance of your database is much easier with SolarWinds® Database Performance Monitor (DPM). The tool is lightweight and provides a web-based interface. Using this tool, you can monitor a locally stored database or one in the cloud.
This tool's profiler feature gives you real-time or historic data you can use to find performance issues.
The tool also helps you analyze your data and find out whether it's compliant with GDPR.
Using the explorer feature, you can analyze the data and find the data's CPU usage.
Apart from viewing overall database health, the tool suggests procedures to help make your database work faster.
A custom dashboard can help you view and analyze multiple database metrics or the metrics of your choice.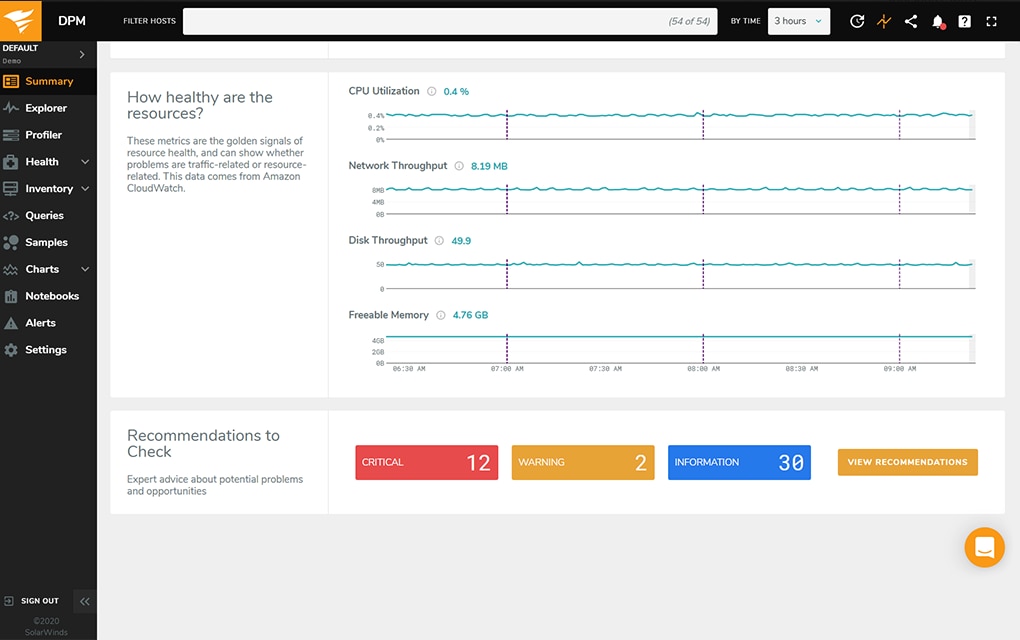 DPM has a free trial period of 14 days. Afterward, the license cost starts at $2,840.
Server & Application Monitor
Does your data center have hundreds of servers? You can monitor the health of each one using SolarWinds Server & Application Monitor (SAM).
SAM has more than 1,200 templates for application monitoring. Using these templates, you can monitor your apps running on hybrid cloud, private, or public environments.
If you have any custom apps, you can use APIs or scripts to create customized monitors.
SAM has templates for Windows-based apps and templates dedicated to Linux apps. The tool can also help you deal with Linux performance issues.
You can plan the capacity of your server and monitor resource usage, helping you prepare long before you run out of resources.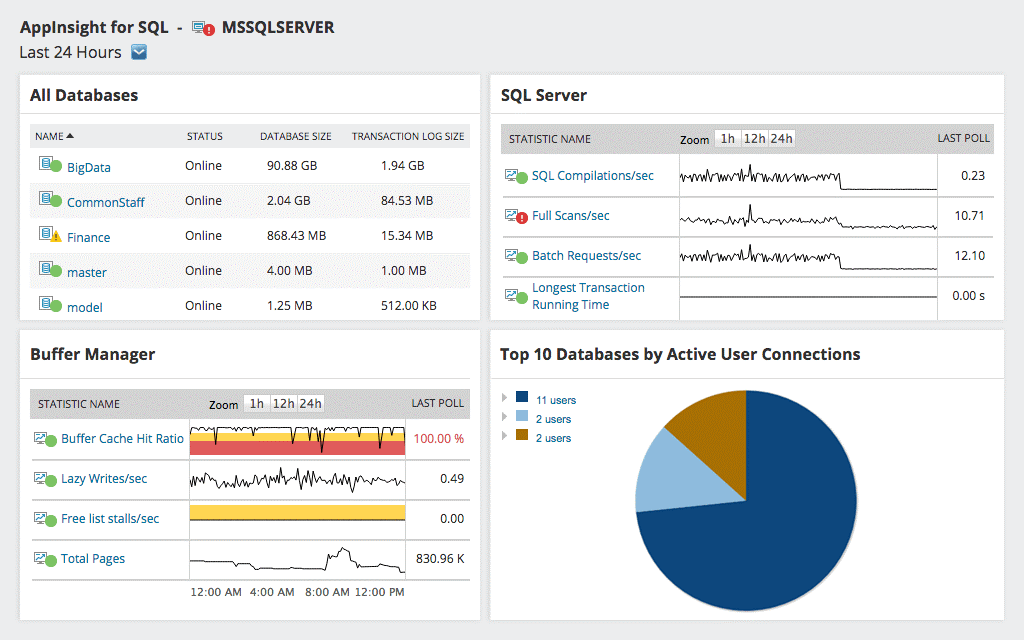 You can try SAM free for 30 days. Afterward, the license starts at $1,567 with subscription and perpetual licensing options available.
Database Performance Analyzer
If your data center is huge, you may face downtime because of bottlenecks. To prevent this, the ideal solution is to monitor the database for performance issues. SolarWinds Database Performance Analyzer (DPA) can help you with this.
Some issues causing server slowdown are hard to find. DPA analyzes your database and highlights these issues before they create a bigger problem.
The tool also helps optimize apps with performance issues.
DPA provides you with data about metrics like disk usage, CPU, and memory. You can analyze these metrics and optimize your database to improve performance.
DPA has an interactive user interface. The tool is cross-platform compatible, so you can use it for your local database and databases stored in the cloud.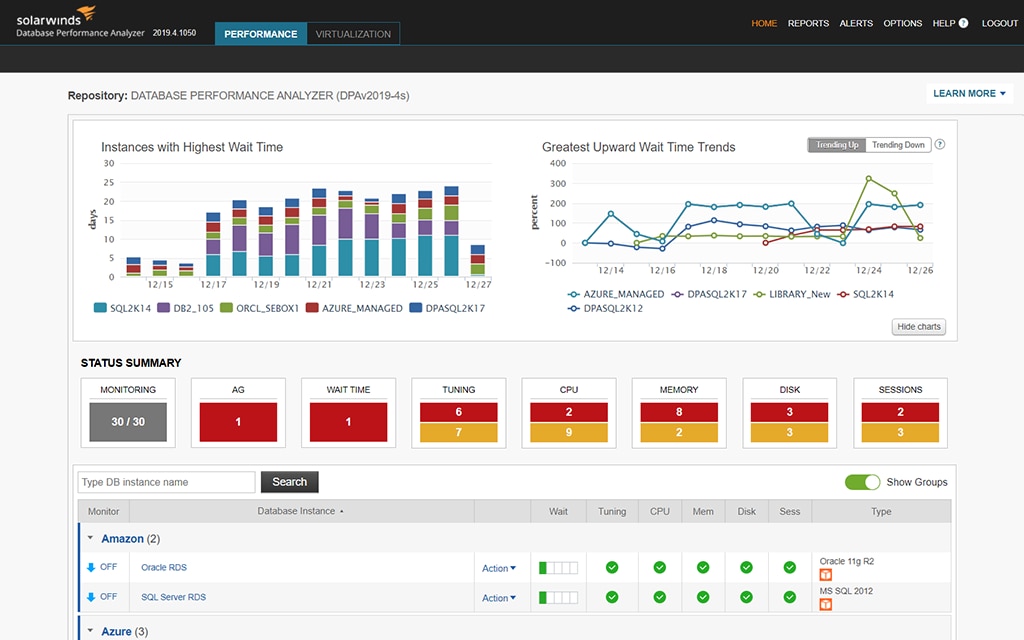 The tool offers a 14-day free trial, after which costs start at $1,111 depending on the licensing option.
Network Performance Monitor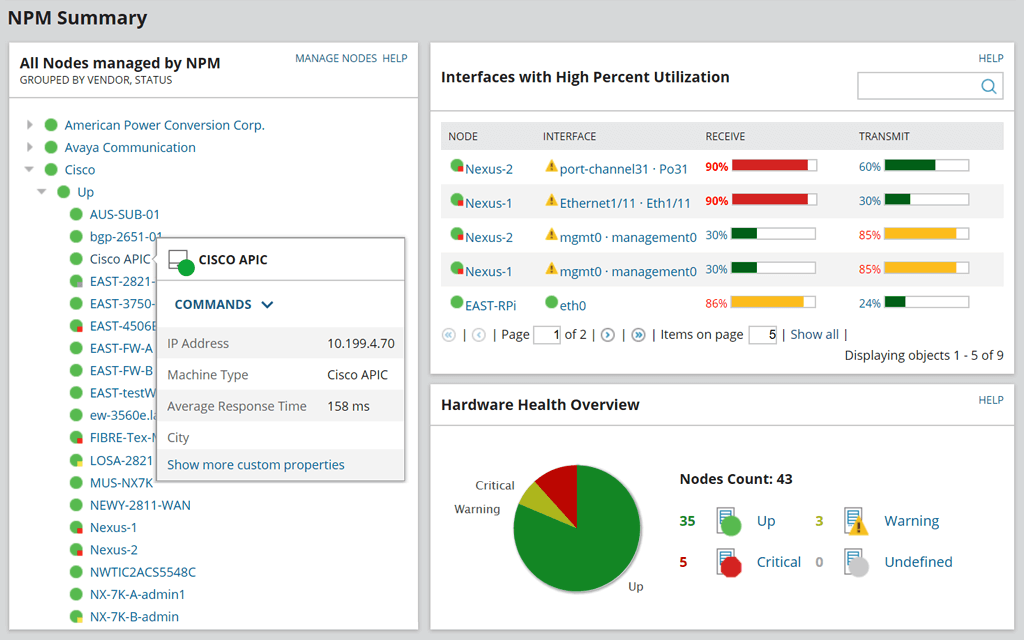 What if your customers face downtime because of network issues? It's easy to blame network operators, but there's a better alternative. You can use SolarWinds Network Performance Monitor (NPM).
The tool provides you with data in a graphical format. It gives you data for every device, app, and network. From there, you can isolate apps with performance issues under a poor network.
Network Performance Monitor provides a range of customizable charts and displays network device availability and faults to help with troubleshooting
NPM helps you set up customized alerts to notify you if there's a device outage, if a server crashes, or if there's high memory usage.
You can read more about the features of NPM here.
NPM offers a 30-day free trial. Afterward, the product starts are $1,583 with perpetual and subscription options available.
Network Configuration Manager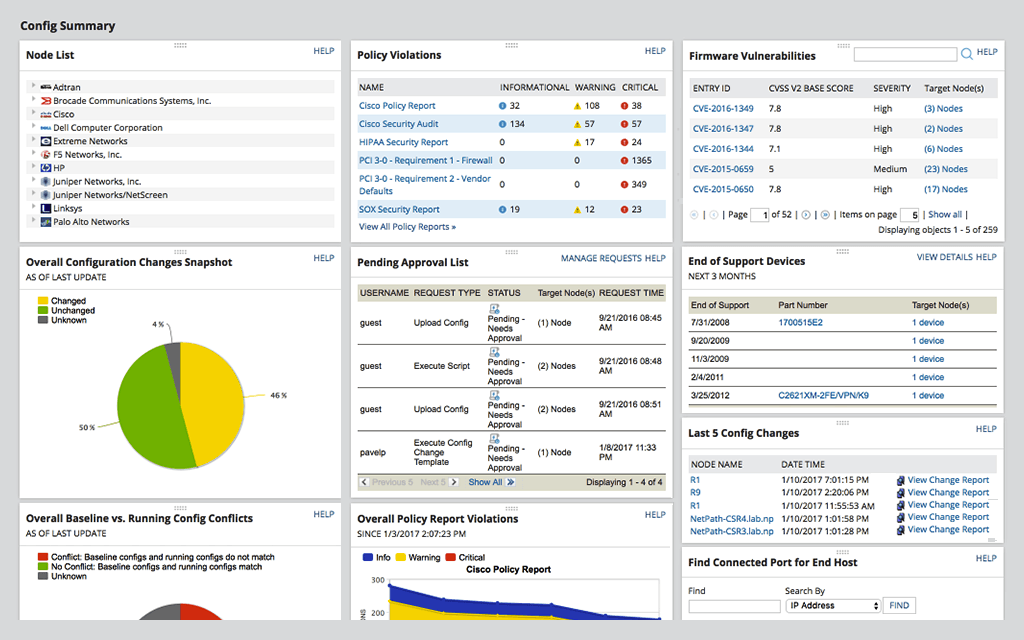 Many of us have wasted time while configuring networks because we have to think about backups, perform repetitive tasks, and come up with solutions to deal with critical changes. Automation can help make these processes easier. SolarWinds Network Configuration Manager (NCM) is a tool capable of helping with automation.
NCM is designed to automate the tasks above, helping you save time.
With NCM, you can easily identify problems and promptly fix operational issues.
The network audits feature helps you reduce downtime, and the tool ensures your network is safe and compliant.
NCM portrays the big picture and points out critical details. For instance, NCM checks your network configuration and automatically corrects compliance violations. Thus, it helps you follow the best practices of network configuration.
The tool is free for 30 days. Afterward, the price starts at $1,630 based on the licensing options you choose. You can read more about the features of NCM.
Virtualization Manager
You should probably have multiple virtual machines or networks in your data center. Fixing VM performance issues is often a critical task, and tools like SolarWinds Virtualization Manager (VMAN) can help you fix these issues.
VMAN is an all-in-one monitoring tool dedicated to monitoring and finding performance issues in your virtual environment.
Using PerfStack™, you can customize and view the necessary performance metrics in a single dashboard. This means you no longer need to switch between multiple windows to check the performance metrics of individual VMs.
The tool identifies underused or overused CPUs, helping you create an evenly distributed load.
VMAN monitors your hard disks and helps you discover wasted storage space from orphaned VMDK files, old and obsolete snapshots, and more. As a result, you can easily delete these items and free up your disk space (read more).
Like the previous tools, you can use this one on your local, cloud, or hybrid platform.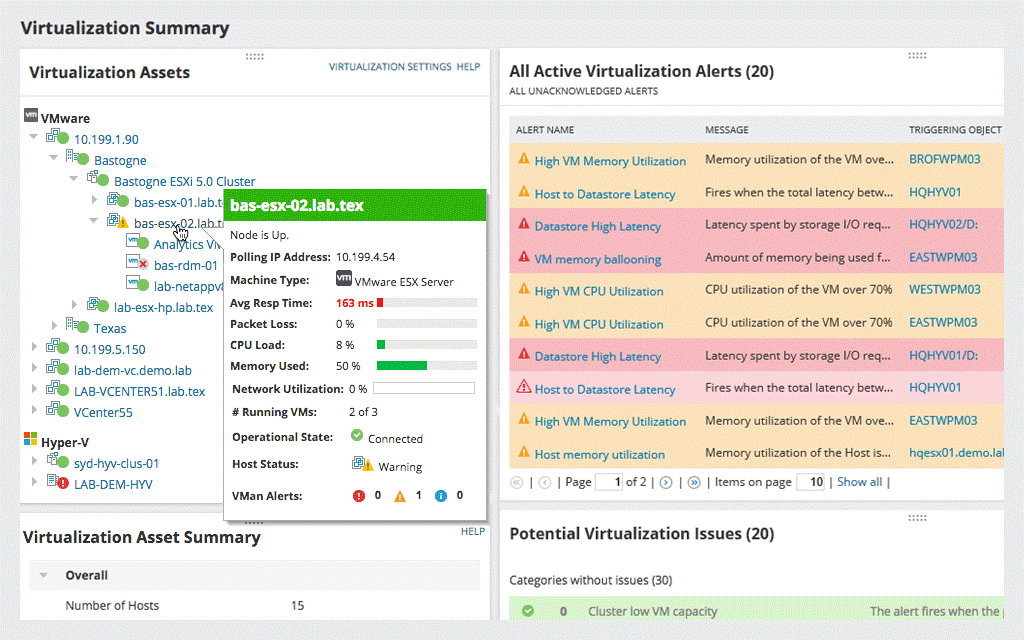 The tool is free to use for 30 days. Once the trial is over, licensing starts at $1,658.
Storage Resource Monitor
What if your data is distributed across multiple vendors? SolarWinds Storage Resource Monitor (SRM) can help monitor the storage capacity, usage, and health of your storage devices.
The tool monitors multi-vendor data and displays the results in a single dashboard. Additionally, you can receive customized alerts to help you avoid sudden capacity or performance issues.
SRM also extends its monitoring service to VMs and apps depending on a storage element.
By identifying throughput and latency hot spots, SRM helps you identify overworked resources.
You can integrate the tool with VMAN and SAM.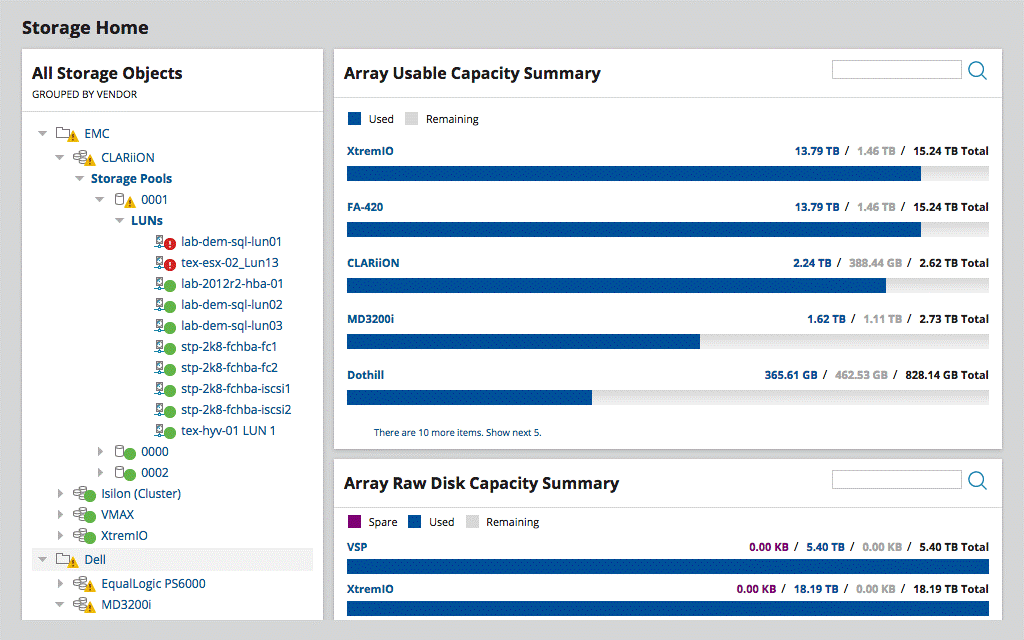 If you want to purchase SRM after a 30-day free trial, you can purchase the product starting at $1,663 with both perpetual and subscription options available.
Choose the Best Tools for Data Center Infrastructure Management
While managing your data center, you should think about ways to scale. If you don't plan as your number of customers continues to grow, you won't be able to provide them with sufficient storage space for their data. The best way to think about and plan for the future is to automate data center infrastructure management with a DCIM tool.
The right DCIM tool can help you increase your ROI in many ways. First, it can analyze the usability of your tools. Then, it can analyze your requirements and find the tools best suited to your needs. Finally, it can help you deploy these tools and ensure your data center will be well managed.
This post was written by Arnab Roy Chowdhury. Arnab is a UI developer by profession and a blogging enthusiast. He has strong expertise in the latest UI/UX trends, project methodologies, testing, and scripting.