For effective log management and overall system security, organizations need to strategically implement security information and event management (SIEM). SIEM software offers insights into your corporate IT environments with the aid of features like historical log data analysis, threat detection, compliance reporting, sophisticated analytical capabilities, and a user-friendly interface and dashboard.
To help you pick the best SIEM software for your business, I looked at the most popular SIEM tools available in 2022 and picked out the ones that stand above the rest. While some tools are particularly powerful when it comes to both affordability and functionality (such as SolarWinds® Security Event Manager), there are a lot of other options out there if you want to consider the rest of the crowded playing field. Because picking the right SIEM tools can be tricky, I'll review the basics before getting into my tool ranking. If you already know what to look for in your SIEM tools, you can jump ahead to the list here:
What Is SIEM and Why Are SIEM Tools Important?
SIEM stands for security information and event management. SIEM tools offer one of the best ways of protecting your company data: by collecting, aggregating, and analyzing your log data to help you get to the bottom of any suspicious activity fast. They also simultaneously monitor events to keep track of threats to various elements of your system. SIEM tools give you a "big picture" look at your entire cybersecurity threat landscape. This empowers you to detect and defend against threats from all over your business, including both your applications and hardware. Because they collect and analyze logs, SIEM tools help you identify threats and understand the "why" of each threat your organization encounters.
The importance of SIEM tools has only grown in recent years as the number and variety of potential bad actors and attack vectors have grown and increased in complexity. By empowering organizations to take a proactive approach to their cybersecurity efforts (as opposed to a reactive one), SIEM tools help you stay a step ahead of threats, protecting your data and helping your organization thrive.
What to Look for in the Best SIEM Tools
SIEM tools bring together two foundational elements of cybersecurity management: security event management (SEM) and security information management (SIM). SEM technology involves monitoring events and creating alerts for possible incidents, while SIM technology collects, aggregates, and analyzes log data. When choosing a SIEM tool, you need to make sure it delivers on both these critical aspects of SIEM. A few specific functionalities your SIEM tool should have include:
Logging Events: Collecting logs helps you identify issues in real-time and address them before they spread.


Detecting Intruders: Your SIEM tool needs to analyze data in addition to collecting it. This ongoing analysis should involve contextualizing the issues to detect intruders more quickly.


Detecting AI-Powered Threats: By collecting and synthesizing information from across your organization's network, your SIEM tool should be able to anticipate threats (including AI-powered "smart" threats) before they occur.


Sending Alerts: Your tool needs to alert the appropriate members of their team as soon as their attention is needed.


Visualizing Data: Being able to visualize data with the help of an intuitive dashboard and visualization tools like charts and graphs is a must for any SIEM tool. Visualizations help you get at-a-glance insight into your network and any potential threats.


Filtering and Storing Data: This makes it easier for you to find log and event data when you need it. Your SIEM tool should keep your data organized and provide an effective search function to help you find data quickly.


Supporting Compliance: Your SIEM software should support compliance reporting and monitoring.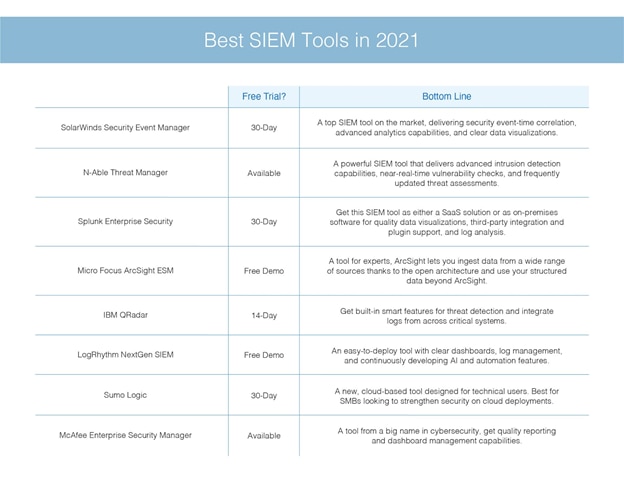 Best SIEM Tools
SolarWinds Security Event Manager (SEM) is designed to deliver all the critical log and event management features you need in a SIEM tool, including:
• Compliance reporting (SEM supports HIPAA, SOX, PCI DSS, and more)
• Security event-time correlation
• Advanced analytics capabilities
SEM is specifically built for businesses in search of powerful log monitoring in addition to effective incident management built around quality prioritization and faster issue response.
Like other SolarWinds tools, SEM delivers when it comes to usability thanks to a clear, intuitive dashboard. It also delivers dynamic data visualization capabilities thanks to charts and graphs to help you make sense of your data.
SEM is at the top of my list in part thanks to the abundance of additional features that make it easy to strengthen enterprise security without complicating your life. The tool includes a file integrity checker to let you track access and changes made to your folders and files. SEM is also highly automated. It's designed to automatically block thousands of threats around the clock and has a built-in alert system to help you stay on top of threats. When you need to dig into a specific log, advanced search utilities in SEM can make finding the logs you need simple.
Even better, SEM is one of the most cost-effective SIEM tools on this list. Because the tool's pricing model is based on your number of log-emitting sources instead of on log volume, you can get a great value for your money with SEM. If you want to see if SEM is a good fit for your business, you can try the tool's 30-day free trial.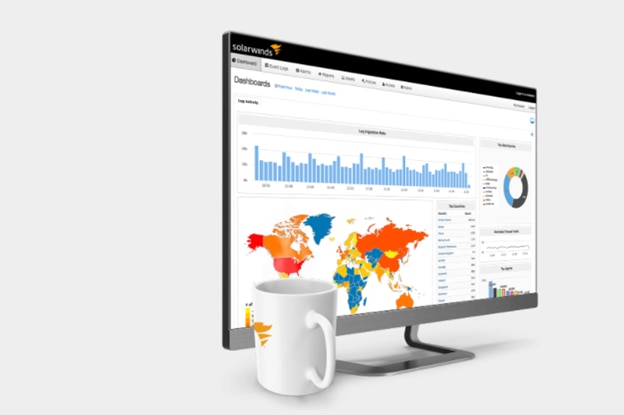 N-able Threat Monitor is another great SIEM tool for any business. Threat Monitor puts a major emphasis on security, helping IT professionals protect their digital environments with a clear, easy-to-use tool. Threat Monitor offers advanced intrusion detection capabilities, near-real-time vulnerability checks, and frequently updated threat assessments. It analyzes your security log information across sources and then cross-checks any anomalies it detects against a continuously updated global threat database to prevent attacks.
Like SolarWinds Security Event Manager, N-able Threat Monitor includes a powerful search capability that makes finding relevant logs simple and compliance reporting that supports the most popular protocols. It's also highly automated, delivering 24/7 threat monitoring and protection without actively involving a member of your IT team. Whenever the tool detects a threat, it will automatically respond and alert you, so you can investigate the issue right away.
You can try Threat Monitor for free here.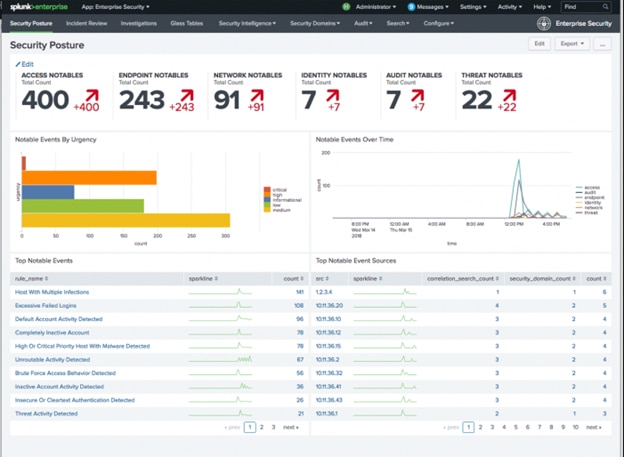 Splunk Enterprise Security is another good option when it comes to SIEM tools. It's been around for over a decade and, as the name suggests, it's designed specifically for enterprises. Unfortunately, this means the tool's prices can be steep—especially if your business is on the smaller side.
Splunk comes as either a SaaS solution or as on-premises software. Like some of the other tools on this list, Splunk offers charts and graphs to help you visualize your data. It also supports third-party integrations and plugins if you need them. Splunk has a steep learning curve, so if you're looking for a tool with out-of-the-box functionality, you'll likely want to consider a different tool. You can try Splunk for 30 days free here.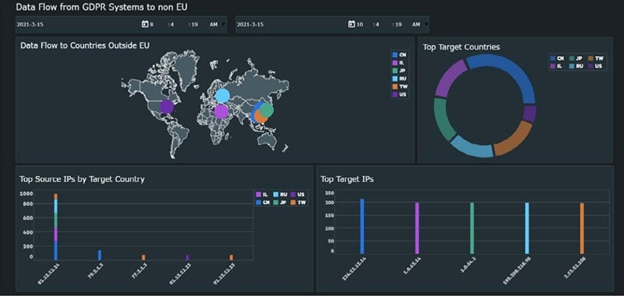 Because ArcSight has an open architecture, a few of its features help it stand out from some of the other SIEM tools on this list. ArcSight can ingest data from a broader range of sources than many other SIEM products. You can also use the tool's structured data outside of ArcSight. For enterprises looking for a very powerful SIEM tool that will allow their teams to go beyond what's typically needed from a SIEM tool, Micro Focus ArcSight ESM is a good option.
While ArcSight doesn't offer a free trial, you can get a free demo of the tool.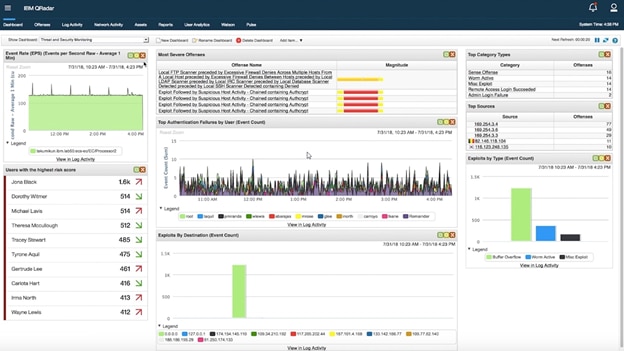 IBM QRadar is a great choice for businesses looking for a SIEM tool that lets them integrate a large range of logs from across their critical systems. The tool delivers when it comes to detecting ever-changing threats thanks to its built-in smart features. While QRadar may not be very intuitive (setting alerts is particularly cumbersome, for example), if you're willing to put in the time and effort necessary to master it, the SIEM tool will deliver powerful capabilities that make it one of the top choices on this list.
This IBM offering can be on the more expensive side, but for enterprises with extensive log management needs, this can be a great choice. You can try IBM QRadar free for 14 days.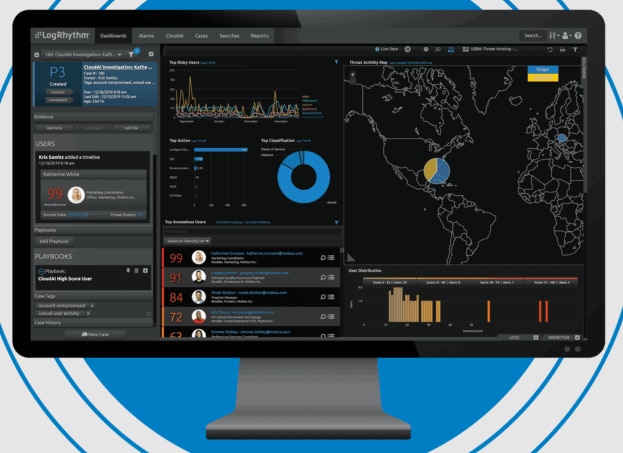 When it comes to critical log management in Windows, LogRhythm NextGen SIEM is a solid and fast option. The tool is easy to deploy for trained IT professionals. The dashboard is clear and easy to use, helping simplify workflows. Plus, if you have to deal with specific compliance standards and you already know your queries, configuring the reports you need is simple.
Unlike some other SIEM tools, LogRhythm NextGen SIEM has rapidly developing AI and automation features, meaning it's getting better at threat detection over time. However, this tool doesn't scale as well as some of the other options listed here, so if you have a large enterprise, you may want to consider a different option.
LogRhythm NextGen SIEM doesn't have a free trial, but you can schedule a custom demo.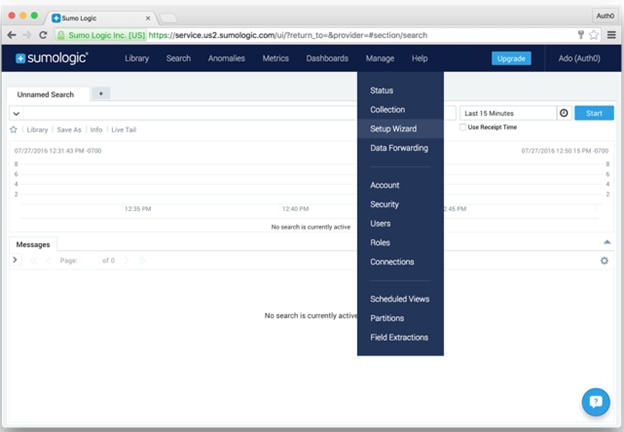 Sumo Logic is a newer, cloud-based tool specifically designed with more technical users in mind (meaning its design features aren't as appealing as some other SIEM tools). One of the benefits of Sumo Logic is both its price and its features make it a good fit for small and medium-sized businesses (SMBs). While there isn't a huge community base in place yet for this tool, it claims to fill IT security gaps missed by other tools, particularly when looking at cloud deployments.
You can try Sumo Logic for 30 days free here.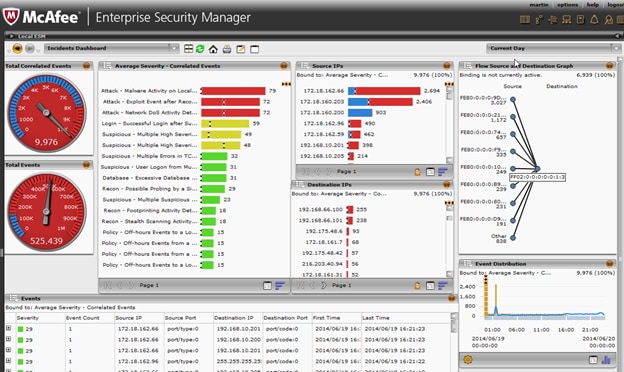 The last tool on my list of best SIEM tools is McAfee Enterprise Security Manager. McAfee is a familiar name for most IT professionals. It's a big name in the tech world, but there are reasons why it's lower down on this list than you might expect. First, other McAfee products have been abruptly discontinued in the past, which could leave you scrambling to find a new SIEM tool fast. Second, in my opinion, the tool's log sharing can be a little tricky to navigate. However, if you're already using other McAfee software—like the company's popular antivirus software—picking another McAfee solution for your SIEM needs might be an easy option. Like other SIEM tools on this list, Enterprise Security Manager delivers quality reporting and dashboard management capabilities.
You can try McAfee Enterprise Security Manager with a free trial.
Choosing Your Perfect SIEM Tool
There are many quality SIEM solutions on the market. For anyone looking for the best all-around log and security event management solution for both macOS and Windows, in my opinion there's no better option than SolarWinds Security Event Manager. It's easy-to-use, featuring clear dashboards, high-quality analytics, compliance reporting, and much more, letting you streamline your operations while also getting the insights you need.