No matter how big your company is, tracking its physical assets is typically a demanding task. Elements such as operating systems and lifecycle phases only add to this challenge. You may have considered using IT hardware inventory management software, but finding your perfect fit can feel just as tricky.
Fortunately, a little bit of research can go a long way. By understanding the strengths of a few leading products, you can find the best solution for your organization.
In this article, we'll cover a few reasons why IT hardware inventory software can be a vital tool. Then, we'll go over four of the top options available on the market today.
Why You Should Be Using IT Hardware Inventory Management Software
IT hardware inventory software can help you keep track of your physical technology by monitoring your technological ecosystem. You could technically do that by hand, but the huge amount of constantly changing data would make it inefficient.
This automated upkeep can save you tons of time. For example, most IT hardware inventory management software will scan your network for new devices. These tools can then note the device type, operating system, and vendor source for your records.
The best programs include proactive features, too. Outdated hardware, for instance, can slow your business down before you're aware of the problem. Management software can prevent this with alerts well in advance.
These activities can usually be translated into reports to give you an idea of your IT department's overall performance. Features like IT inventory mapping software can also help.
4 of the Best IT Inventory Hardware Management Software and Tools
Given these benefits, you may already be seriously considering IT hardware inventory management software. However, there are a lot of different products out there. Keep reading to learn more about our top choices.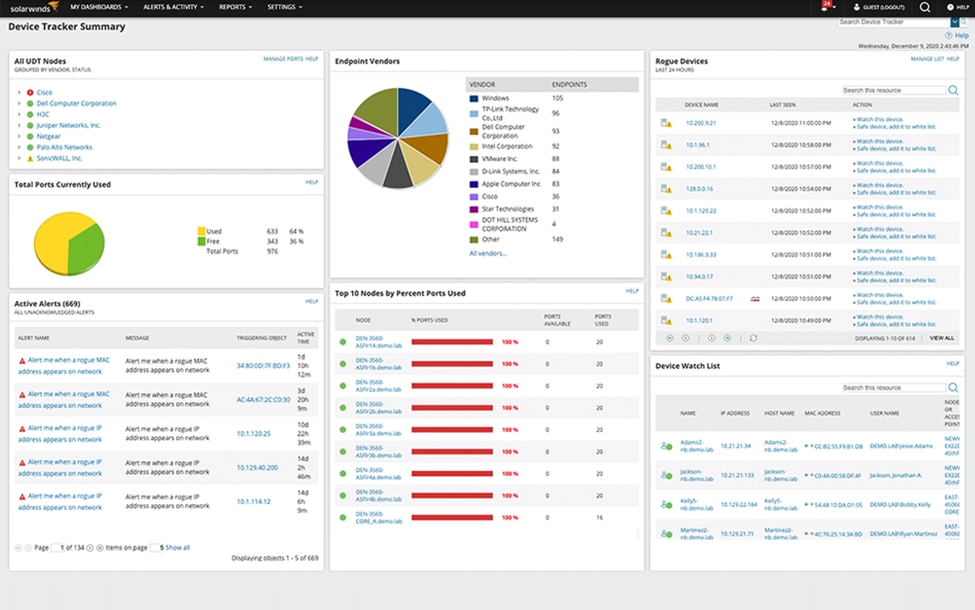 We'll kick off the list with our tool: SolarWinds® Server & Application Monitor. It offers powerful, fully integrated tracking for your entire system. You're not viewing your hardware in a vacuum: you're seeing it alongside software and license management, too.
Here are a few other impressive features of our IT hardware inventory management software:
Monitor hardware health to ensure server and application uptime
Automate collection of vital data including updates and warranty status
Generate reports based on standard templates or custom metrics
If you're interested in powerful automation and an easy-to-understand interface, we recommend SolarWinds Server & Application Monitor. It's as simple as it is effective.
You can download a free trial of SAM.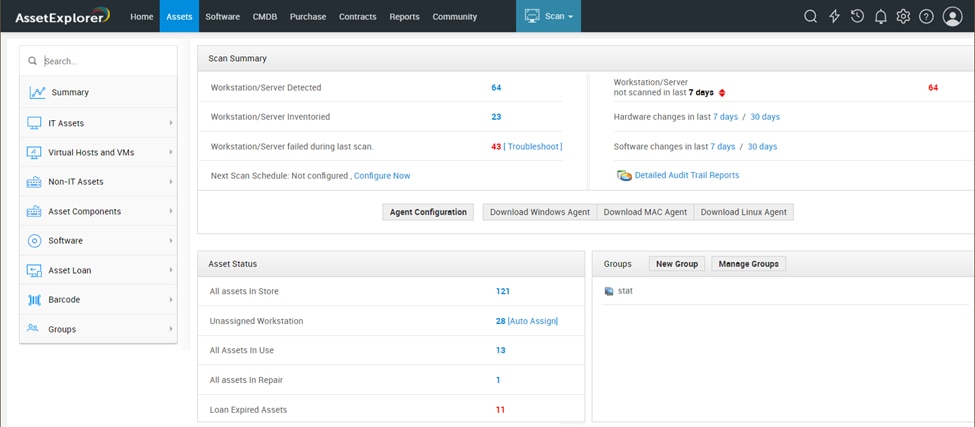 If you're a Windows user, you'll probably feel right at home with ManageEngine AssetExplorer. This familiar interface makes navigation a breeze. However, if you run into problems, you can rely on a 24/7 support team to help you out.
Some other advantages of AssetExplorer include:
You can create highly customized product types and hardware lists.
You can edit the relationships between hardware dependencies.
You get manual import options in case of automation errors.
You may want to try this IT hardware inventory software if you're looking for hands-on monitoring. You'll be free to edit and reconfigure your maps as much as you need without losing the automation options.
You can request a custom quote.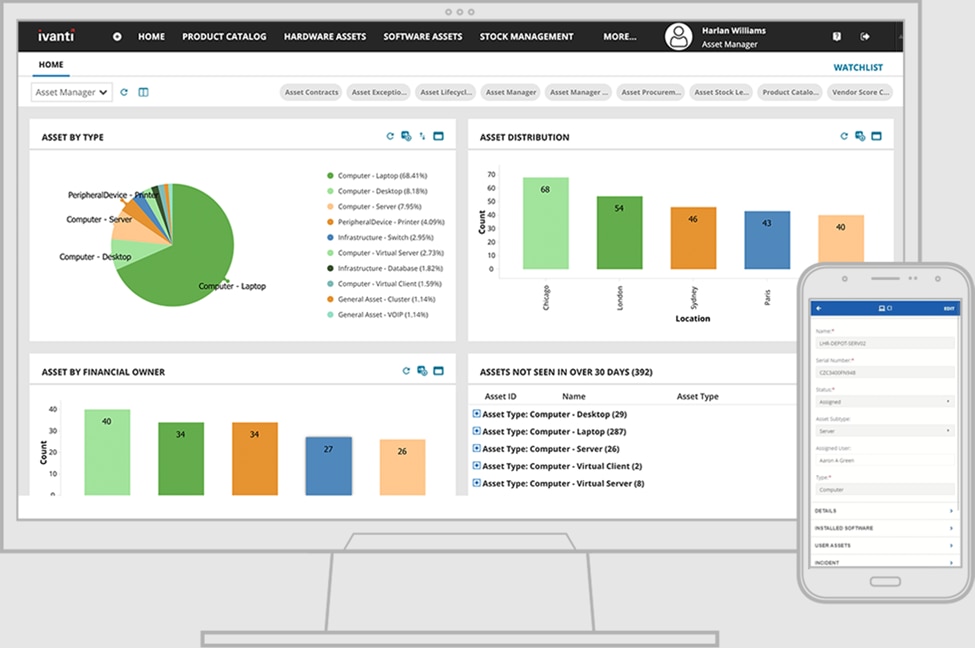 Ivanti uses efficient IT inventory mapping software and easy-to-read reports to help you get an accurate big-picture view of your system.
Special cost visibility feature to report on your IT spending
Barcode scanner for manual uploads
Intuitive mobile app to keep you apprised even when you're off-premises
Given Ivanti's ability to provide overviews, consider using this IT hardware inventory software if you're running a large organization. It might not offer the most in-depth data, but its coverage of countless hardware units is impressive.
You can requesting a quote for Ivanti.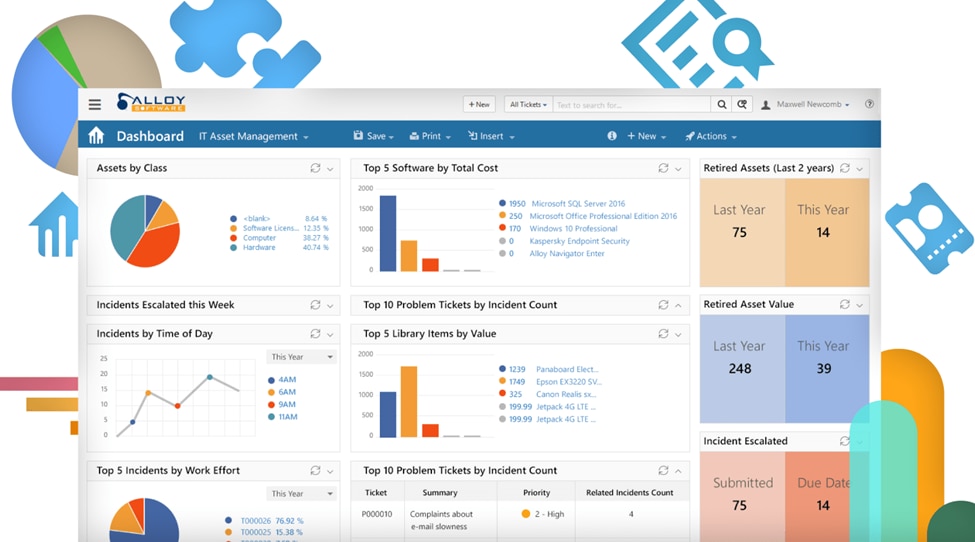 There's a reason why lifecycle management is a big part of most IT hardware inventory management software: most companies have to keep track of when their devices will need upgrades. If this is particularly important to you, Alloy Navigator may be a smart choice.
Alloy Navigator offers several other powerful features, including:
Equipment checkout streamlined with in-system reservations
Tracking of consumables like printer paper
Purchase order management to help you prioritize preferred vendors
We suggest giving this product a look if you value robust maintenance. Alloy Navigator does an efficient job of tracking physical needs on a large scale.
Price: You can request a demo of Alloy Navigator.
Conclusion
Tracking all your assets can be crucial to your company's success. This kind of pressure can make choosing your IT hardware inventory software a bit intimidating. Thankfully, researching your options can help you find the right fit for your organization.
In this article, we covered four impressive IT hardware inventory management software options: