In your organization, you'll likely need to send files between the different servers in your network. However, file transfers can expose your information to security risks or corrupt your data.
Fortunately, using File Transfer Protocol (FTP) server software can help safeguard your data. It can send information securely and reliably between different devices in your network. Furthermore, there are multiple FTP server clients suited to various business types.
In this article, we'll look at what FTP server software is and why you might like to consider using it. We'll then outline four of the best programs and help you decide which one best suits your business.
What FTP Server Software Is (And Why You Should Consider Using It)
FTP server software enables you to send data between different devices in your network. There are a few different kinds of programs:
FTP: FTP uses a client-server model architecture to transfer files within networks.
Secure File Transfer Protocol (SFTP): This method uses Secure Shell (SSH) and encryption to safeguard data during transfers.
Managed File Transfer (MFT): MFT uses administrative controls, automation, and support for different file transfer protocols to send data.
File Transfer Protocol Over SSL (FTPS): This method uses Secure Sockets Layer (SSL), passwords, and authentication methods to send information.
Built-in security features are some of the best reasons to use an FTP server client. The software uses encrypted connections to prevent malicious parties from intercepting and using your protected data.
Furthermore, FTP server software gives you greater control over your data. Database administrators can determine who can share files and which file types are supported. Additionally, you can restrict access to information according to different permissions levels.
Four Best FTP Server Software Options
What's the best FTP server software for your business? Let's look at four of the best IT tools to help you answer this question.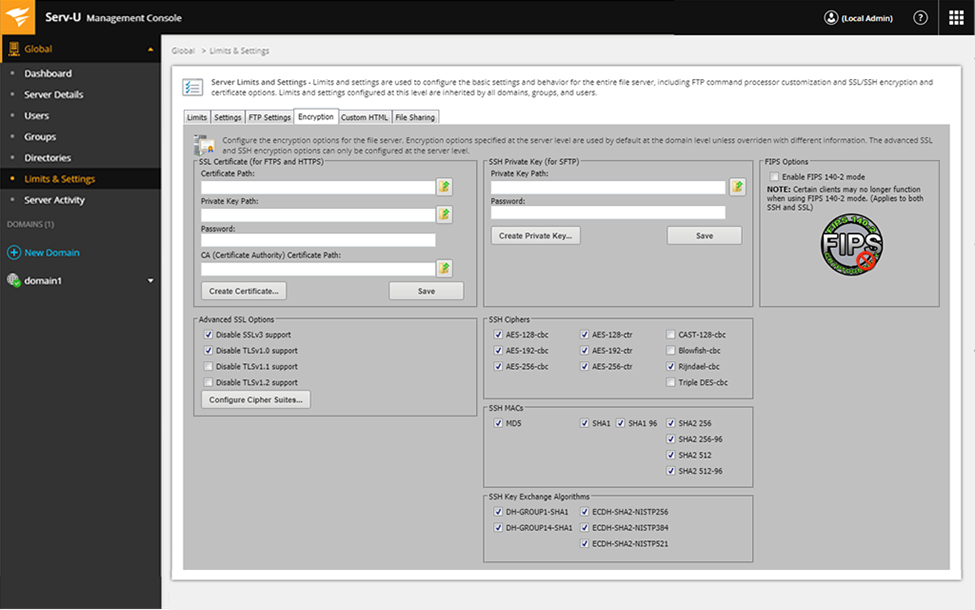 SolarWinds® Serv-U® MFT Server is an excellent option if you're looking for more control over file transfers. It supports multiple protocols, including FTP, FTPS, and SFTP.
Additionally, you can use Serv-U inside and outside of your organization. The software supports ad hoc and remote file sharing, so your team members can exchange information directly from their devices.
Serv-U MFT Server is highly scalable. You can integrate it with both external database servers and NAS/SAN. As such, it may be the best secure FTP server for growing organizations.
Finally, Serv-U MFT Server can help you maintain regulatory compliance. It uses transit procedures capable of safeguarding your data against external or internal threats.
Price: Serv-U MFT Server starts at US$3,192 per server. You can also access a fully functional free trial for 14 days.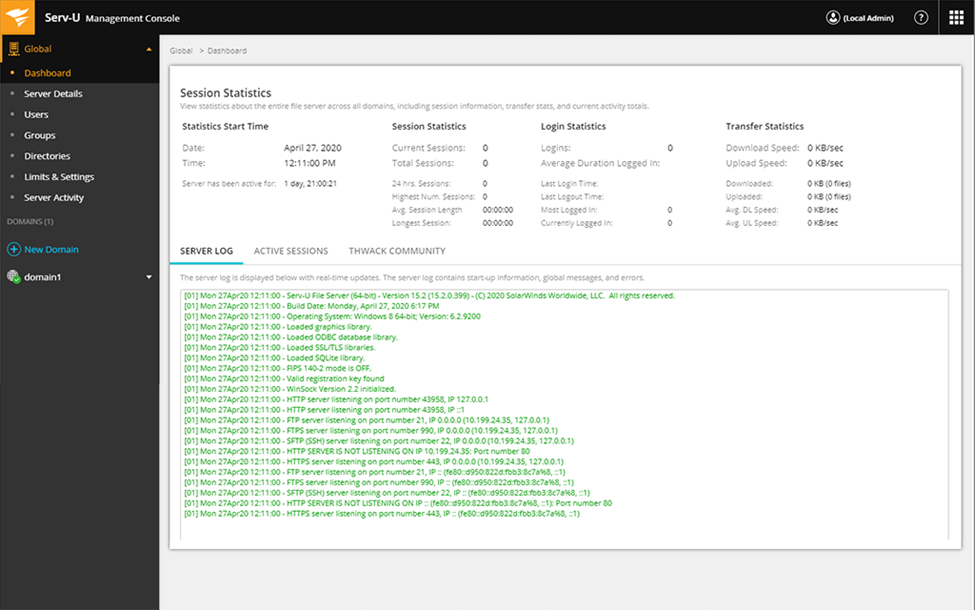 SolarWinds Serv-U FTP Server is a more streamlined and affordable server software option. You can use it with both FTP and SFTP server transfers.
Furthermore, the program supports mobile transfers from iOS and Android devices. These data transfers use HTTP connections, enabling you to share resources rapidly without waiting for server responses.
You can use Serv-U FTP Server within your web browser. There, you can drag and drop files directly into the interface. As such, it's a user-friendly software solution suitable for smaller organizations.
Finally, Serv-U FTP Server supports both large and small file types. You can set up automated transfers and tweak your settings to streamline information sharing within your business.
Price: Serv-U FTP Server starts at US$528 per server and comes with a 14-day free trial.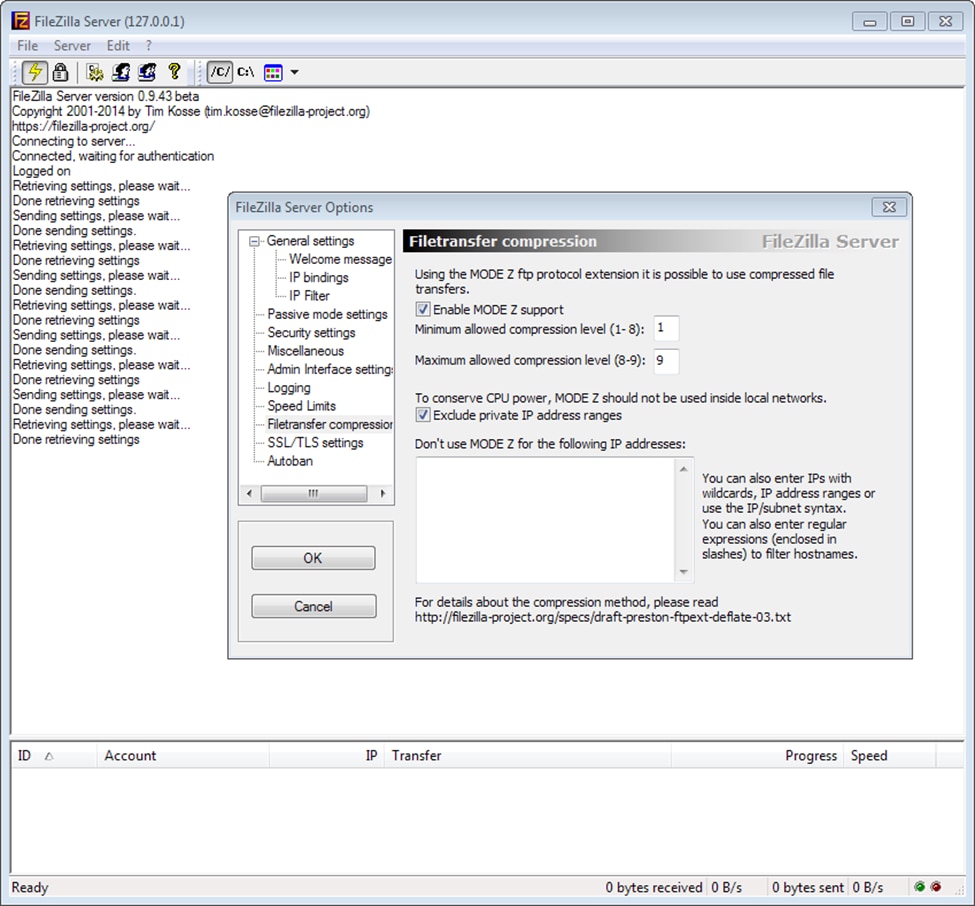 FileZilla Server is one of the best free FTP clients. It uses open-source software you can edit and use as you see fit, so it's a great choice if you're looking for complete control over data transfers. It's also excellent for small organizations with tight budgets.
The software supports FTP and FTP over TLS connections. It uses this encryption to prevent security breaches.
Furthermore, FileZilla Server compresses data during the transfer process. This compression can speed up the exchange of information, making it ideal for fast-paced organizations.
However, this program currently does not support SFTP. As such, it might not be the best option if your business handles highly sensitive data.
Price: FileZilla Server is a completely free FTP client.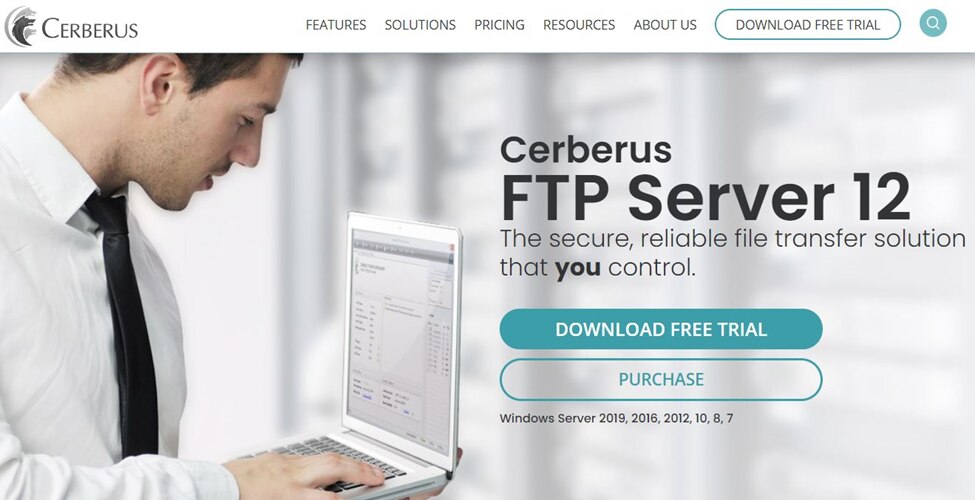 If you're looking for a customizable and secure FTP server solution, you might consider Cerberus FTP Server. This program supports various protocols, including FTP, SFTP, FTPS, and Secure Copy Protocol (SCP).
Cerberus FTP Server uses enhanced security measures, such as two-factor authentication (2FA), certificate verification, and public key authentication. You can easily set up password and security settings through the program's dashboard.
Moreover, Cerberus FTP Server enables you to control almost every aspect of your server. It has an integrated Event Manager capable of automating single and batch file transfers. You can also set up actions from server event triggers.
Finally, this FTP server software has detailed and transparent reporting tools. It logs all events and checks file transfers for their integrity, so you can keep track of all your network sharing events.
Price: Cerberus FTP Server packages start at US$499 and go up to US$1,999.
Conclusion
FTP server software enables you to send files safely within your network. It can secure your information, streamline processes, and let you control the flow of data. As such, it can be an invaluable investment for your organization.
To recap, these are four of the best FTP server software options: