It's hard to overstate the importance of excellent customer service. Handling queries in a swift and efficient manner can help your business maintain a good reputation and increase client retention. However, this can be a little challenging if your support term receives dozens, or even hundreds, of requests per day.
Fortunately, an IT ticket system can help you process customer queries more efficiently. There are several options available, some of which are specifically designed to help large businesses deal with high volumes of tickets.
In this post, we'll discuss some of the features to look for when choosing a help desk ticketing system. We'll then review five of the best solutions on the market.
What to Look For in an IT Ticket System
Every IT ticket system caters to different business requirements. However, the right help desk software should enable you to resolve tickets faster, boost your team's workflow with automated tasks, and provide valuable data to help you improve your service.
Here some important features to look for in a help desk ticketing system:
Service Level Agreement (SLA) management. A system that allows you to set up SLA policies can help you ensure your service targets are being met.
Insights. In-depth help desk reports enable you to monitor your team's performance based on various metrics, such as the average time it takes for them to resolve issues.
Automation. For a more efficient help desk workflow, it's important to look for software that enables you to automatically assign and escalate tickets to particular agents and send automated responses.
Self-service options. Another way to improve your team's efficiency and reduce their workload is to opt for an IT ticket system with self-service resources, such as FAQs and troubleshooting guides.
Your support ticket system should facilitate team collaboration. A unified inbox enables support agents to collaborate on an issue, tag and label tickets accordingly, and leave internal notes. This can lead to better ticket organization, which helps your team process queries and issues more effectively.
Top 5 IT Help Desk Ticketing Systems
Whether you run a medium-sized business or a large enterprise, ticketing systems can help you enhance your customer service and empower your support team.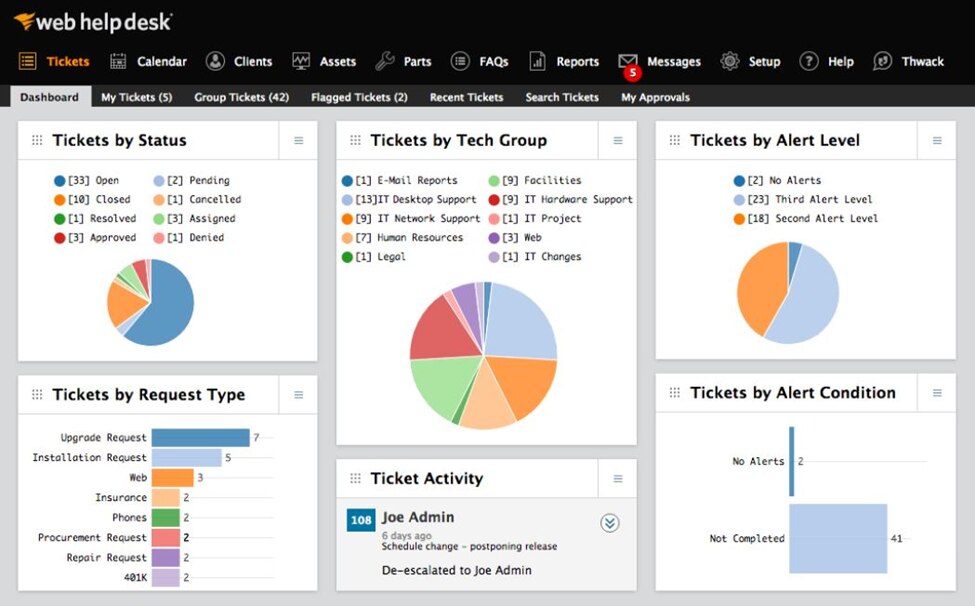 SolarWinds® Web Help Desk® is an automated ticketing solution designed to help you process requests from both internal and external clients. This web-based help desk enables users to submit tickets through email or a web interface. Each ticket is then routed to the appropriate technician or agent, based on the type of request.
Ticket checklists. These help you ensure all necessary tasks and steps are completed before a ticket is closed.
Parent and child service relationships. This feature enables you to link multiple requests to one parent ticket to address a recurring issue.
Request type archive. You have the option to archive a particular request type and all associated tickets, so they're hidden from clients and agents.
This IT ticket system offers in-depth reporting to help you measure your SLAs. It also comes with a centralized knowledge base to help users resolve issues on their own.
Price: Pricing starts at US$367 per tech.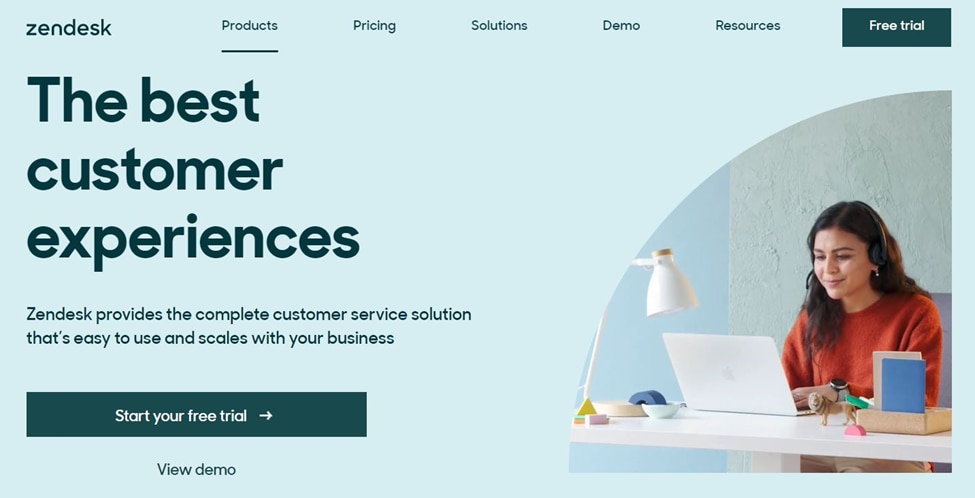 Zendesk is a complete customer service solution with multi-channel support. Tickets can be submitted via email, live chat, social media, and other channels. This way, customers can choose the most convenient way to reach you. They can also track their conversations across channels.
Some noteworthy features of Zendesk include:
A unified agent workspace makes it easier to manage and prioritize requests
Integration with popular collaboration tools, including Microsoft Teams and Asana, to help strengthen communication between team members
Built-in routing, so tickets are received by the right agent
A customizable help center with AI-powered article recommendations and multi-language support
This support ticket system is also highly flexible and scalable, so you can customize it as your business grows. It also provides actionable insights to help you improve the productivity of your teams and the customer experience.
Price: Zendesk's plans for enterprises start at US$150 per agent/month.

Spiceworks is a free ticketing system for both cloud-based and on-premises solutions. Setting it up is very straightforward—all you need to do is sign up and you'll immediately get access to the web-based help desk.
While Spiceworks is free, you can still expect to enjoy most of the features offered by premium help desks. These include:
The ability to auto-assign tickets to the relevant expert
Team performance metrics
Ticket collaboration
A customizable self-service portal
Multi-site support
While there are no limitations on customer tickets and data storage, Spiceworks is better suited for medium-sized companies rather than large businesses. It offers all the basic features you need to get started. However, as your business grows, you may need to look for a more advanced solution.
Price: Spiceworks is free of charge. However, you'll see ads on the back end of your help desk.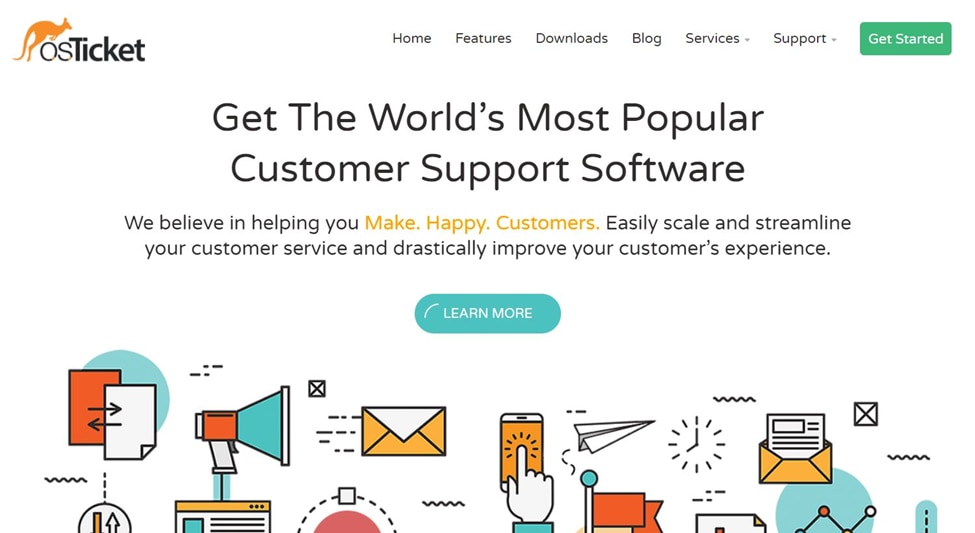 osTicket is another free ticketing system you can use. This open-source software enables you to streamline your customer service with user-friendly tools.
Some of osTicket's features include:
Ticket filters to help you ensure queries are automatically delivered to the right agents
Custom fields that enable you to collect more information from customers
Ticket locking mechanism to avoid dual responses on the same request
The ability to create unlimited SLA plans to track tickets and due dates
With osTicket, you can also create internal to-do lists for your support agents. Support requests and responses are archived online, so end users can sign in to view a history of their tickets.
Price: The open-source version is free. Meanwhile, the cloud-hosted edition starts at US$9 per agent per month.

The HubSpot email ticketing system is designed to help your team stay organized and resolve issues faster. It comes with a unified help desk for more efficient ticket management and easier team collaboration
HubSpot's help desk offers a range of features, including:
Key metrics like agent response time to help you monitor your team's performance
Routing and automation tools to reduce manual tasks for your agents
The ability to turn common issues and questions into a robust knowledge base
Live chat to help you offer a more personalized service in real time
HubSpot also helps you set goals to meet your SLAs. It comes with in-built reports that offer valuable data on your knowledge base usage and overall ticket management.
Price: HubSpot's customer service plans for enterprise start at US$1,200 per month.
Conclusion
Resolving ticket requests in an efficient manner is crucial to your company's growth and reputation. Whether you're looking for something specific like an email ticketing system or an option like open-source software, there are several powerful options to choose from.
In this post, we looked at five top IT help desk ticketing systems:
Do you have any questions about choosing the right support ticket system for your business? Let us know in the comments below.
[Prices as of March 2022]